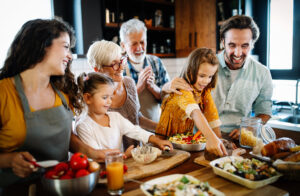 Even though Thanksgiving is over, there are still plenty of winter holidays on the horizon that encourage the consumption of sugar and starchy foods. Without the right precautions, this could be a recipe for tooth decay. In today's blog, your Richfield, MN, dentist talks about how to help safeguard your teeth over the holiday season.
Sugar, Starch, and Cavities
From now through the end of December, people in our community will be celebrating a number of winter holidays, all with one thing in common: meals and treats high in sugar and starch. While we love pies, cakes, cookies, and other desserts as much as anyone, we also know that they could lead to cavities. Particles of sugar and starch tend to cling to the teeth, left for bacteria to break down and consume. When this happens, oral acidity rises and plaque coats the teeth. Over time, this could lead to cavities, gingivitis, gum disease, and even stained teeth or bad breath.
Tips for Healthier Meals
For a healthier meal, try to enjoy the items high in sugar and starch in moderation, and wash them down with a glass of water to help rinse away stray particles. You could also add fresh fruits and veggies to your plate, which are not only healthy and delicious but could help scrub away plaque as you consume them. You should also be aware of what your kids are eating too, as they're often inundated with sugary treats throughout the month of December, and again moderation and good oral health habits could help keep smiles of all ages strong and healthy!
Caring for Your Teeth and Gums  
Daily care for your teeth and gums is also beneficial as well. These actions help remove stray food particles, lowering the risk of cavities and more. You should start each day by brushing for two minutes with a fluoride toothpaste. We suggest doing the same before bed, and also taking time to floss every evening as well. When we clean our teeth, we keep them healthy. You should do this even if you're going to be out of town or staying with family! Finally, a last checkup and cleaning visit before the year ends is recommended too. You not only start 2022 with a healthier smile, but you can use any remaining dental insurance benefits or health savings funds before they expire at midnight on December 31st.
Talk To Your Richfield, MN Dentist About General Dentistry
We want you to enjoy a healthy smile in a season inundated with sugary treats. To find out more about our treatments for poor oral health, then contact your Richfield, MN, dentist, Dr. Keller, by calling (612) 861-7188. We want to help your entry family maintain good oral health, in this year and the next.