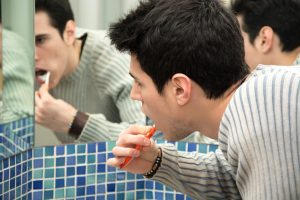 Making the right resolutions can help you spend the new year healthier, and happier. One thing you should think about when making resolutions is how you can improve your oral care. Even if you have been able to prevent dental problems like tooth decay for many years, improvements in your daily habits can be beneficial. Improving your brushing and flossing habits, and cutting down on the sugar you eat, can make you less likely to experience problems with your smile. This can be good for your appearance, and for your well-being. Of course, you should not make the mistake of thinking you are on your own when it comes to your oral health. In addition to better daily care, make sure you are attending regular dental checkups.
Everyday Improvements That Can Lead To Better Cavity Prevention
Better cavity prevention can be as simple as taking more time to brush properly. After all, the value of this habit goes up when you give more attention to it, and make sure your are cleaning those hard-to-reach spaces. If you do not floss regularly, make sure you start – flossing allows you a way to clean spaces between your teeth effectively, which can protect you against tooth decay and gum disease.
Combining Daily Care And Professional Care During Dental Checkups
Combining your better daily habits with regular dental checkups can make it easier to stay free of cavities in 2018. At each appointment, you receive a cleaning of your smile, and a careful study of it. By monitoring your oral health on a regular basis, your dentist can keep you better informed about your well-being.
Talk To Dr. Keller About Enjoying Better Oral Health Care
At Cedar West Family Dentistry, we are proud to help area families keep their smiles free of problems like tooth decay and gum disease. We provide a range of important preventive and restorative services. Want to know how you can improve your appearance? We can also discuss cosmetic dental work with you! To learn more, or to schedule an appointment with us, call our family dental office in Richfield, MN, today at (612) 861-7188.