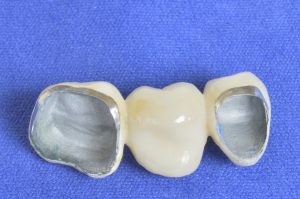 Losing one tooth, or several, could lead to poor oral health and issues with your smile's appearance. In order to improve oral health in Richfield, MN, we often prescribe a dental prosthetic. With a dental bridge, we have a lifelike option for addressing tooth loss and returning smiles to optimal health and function.
Don't Ignore Minor Tooth Loss
Losing a tooth is embarrassing, and you may feel less confident in your smile due to this gap. But losing a tooth is about more than just smile esthetics. Often, misalignment develops as the adjacent teeth drift from position due to the gap in the smile. Missing teeth have also been linked to higher risks of TMJ disorder and bruxism (teeth grinding). Over time, as the body stops sending nutrients to the jawbone around a missing tooth, the bone tissue breaks down in a process that leads to further tooth loss and in extreme cases, an older appearance. Not to mention to difficulties some people encounter with eating and speaking due to tooth loss.
The Benefits of a Bridge
A dental bridge offers an option for replacing between one and three teeth in a row. The prosthetic prevents misalignment by filling the gap in your smile, while reducing strain on the jaw joints, which helps you avoid the onset of TMJ disorder and bruxism. The prosthetic restores your ability to eat and smile with confidence. Since we create them using lifelike materials, such as porcelain, they will blend with the smile, In fact, we can shade them to match surrounding teeth and ensure a natural appearance. With proper care and attention, your prosthetic could even last as long as 10 to 15 years.
Creating Your Custom Prosthetic
We begin by removing a small amount of structure from the teeth on either side of the gap in your smile. We next take detailed images and impressions, which will be used to design and create your prosthetic. The bridge will consist of your new teeth with crowns attached to each end. The crowns will be placed onto the prepared teeth, anchoring your new ones firmly in place. At home, you should brush them and floss around them as you would your other natural teeth. You also need to clean the space between the bottom of the bridge and the top of your gums, where food particles may accumulate. If you have any questions about our tooth replacement options, then contact our team today.
Let's Address Your Tooth Loss!
Don't ignore your tooth loss and allow your oral health to suffer. To learn more about our tooth replacement options, schedule a consultation with Dr. Keller by calling Cedar West Family Dentistry in Richfield, MN, today at (612) 861-7188.