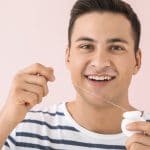 To effectively protect yourself against threats like tooth decay and gum disease, you should have an oral health care routine that fully protects your smile. Unfortunately, people who generally feel confident about their habits at home may not realize how much your smile remains vulnerable to bacteria buildup. The reason some people fail to effectively protect their teeth is because they are not flossing on a regular basis. Failure to do so allows deposits of bacteria between teeth to remain, multiply, and cause a buildup of plaque and tartar. While our Richfield, MN dentist's office is able to help you fight this buildup during professional teeth cleanings, you should have a plan in place to effectively fight these deposits at home!
How Thorough Is Your Oral Care Routine?
If your oral care routine does not include flossing, it can be hard for you to effectively protect your smile even if you brush thoroughly on a daily basis. Toothbrushes are designed to effectively clean much of your mouth, but the bristles are not an effective means of cleaning debris from between teeth. If you want to make sure these spaces are being protected, you should floss each day. By doing so, you lower your risk for cavities that require dental fillings or dental crowns, and you make yourself less susceptible to periodontal problems.
Tips To Ensure Your Flossing Efforts Are Effective
Consistency certainly matters when it comes to floss. If you make this a regular habit, you are less likely to let tartar deposits form between teeth, which makes it easier for you to continue to stay healthy. If you want make every flossing session as effective as possible, take time with this task and make sure you clean with a vertical motion. Simply pulling the floss string back and forth can limit your ability to clean every part of these spaces.
Flossing And Its Role In Maintaining Your Periodontal Health
Flossing is important because it helps you remain protected against gum disease as well as tooth decay. If it is not managed effectively, gum disease can lead to tooth loss, and it can raise your risk for developing other health problems. Fortunately, you can avoid these troubles when you floss down to the base of teeth.
Our Richfield, MN Dentist's Office Helps Patients Protect Their Smiles
At our Richfield, MN dentist's office, individuals who worry about their oral health can look forward to thorough preventive dental care at every appointment. In addition to helping patients who want to prevent dental problems, we do offer services to address cosmetic and oral health issues! We are proud to have provided our care to so many community members, and we look forward to helping you as well! To find out more, please call Cedar West Family Dentistry at (612) 861-7188.