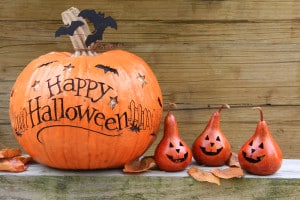 One of the most enjoyable times of the year – and most threatening to your smile – is Halloween night. You get to dress up, see friends, watch your children wear adorable costumes, and treat yourself to some very delicious sugary goodies. Unfortunately, as much as that candy makes you smile, it also does bad things to your smile. This can leave some patients feeling quite conflicted and unsure how to proceed. We suggest you consider some helpful questions and answers about preventive care, so you're a bit more prepared for keeping your smile healthy, while you celebrate.
Questions and Answers: Smile Protection on Halloween
Question: Should I just avoid candy altogether?
Answer: No, we do not expect our patients to completely give up sugar or avoid participating in celebrations. However, we do suggest that you indulge in candy during isolated times of the day as a method of effective preventive care, rather than waking up the morning after Halloween and snacking on sugar from morning through nighttime. Eating your goodies as snacks will allow you to clean your smile afterward, rather than leaving it coated in sugar for extended periods of time.
Question: Should I brush my teeth right away every time I eat candy?
Answer: No. It seems that brushing your teeth right after you eat sugar is a good idea, but you just end up pressing particles into your teeth. Instead, go to the sink and rinse your mouth out. Then, wait about 30 minutes or so without eating anything. Once the time is up, then you may brush your teeth for effective results. (Hint: This always qualifies as a good approach to practicing preventive care after eating).
Question: Is there anything I can do to protect my smile if I don't have access to my toothbrush and toothpaste on Halloween night?
Answer: Skip the soda or punch and drink water to reduce the sugar content and bacteria in your mouth.