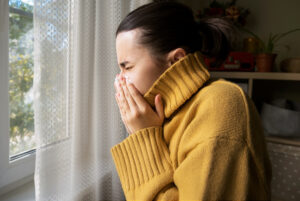 Understandably, after a few years of pandemic response and personal health care, people are a little tired of the topic. You might also think that you must be healthy enough to handle the common cold or influenza if you survived COVID-19. But this winter, it seems as if our common winter viruses are in for a record year.
It is absolutely vital that you maintain your oral hygiene when you're suffering through these yearly sicknesses. Winter is the prime time of year for the transmission of these illnesses, as well. Due to colder weather, we are often more confined to smaller areas. Shared food and embraces can both lead to the spread of these communicable diseases.
Today, your Richfield, MN dentist lets you know how even a few days off your feet can lead to lasting damage within your smile! Take the effort in keeping your mouth intact while the rest of you feels downright lousy!
Avoid Sickness Altogether
Within dentistry, one of the largest stresses is upon preventive care. While we have the capability to restore broken teeth or receding gums, the best hope is to keep your natural material shining. So it is important to take the necessary steps in avoiding these nasty little viruses before they have a chance to infect you!
One of the smartest ways to protect yourself is through the use of an influenza vaccine. We tend to minimize the risk involved with this virus, as it seems like a routine happening. But even setting aside the pandemic years, the flu can be deadly. Approximately 50,000 Americans died in the 2018-2019 season from this preventable illness, so don't let it catch you unprepared!
Beyond vaccination, other avenues may be helpful in avoiding the cold and flu season. Wash your hands for longer than you'd think, at least 20 seconds. This is never a bad habit to keep with you! We are constantly touching things like handrails and elevator buttons while shopping for gifts or out with family. We don't need to bring home every microbe with us!
What To Do When You're Sick
If you have already developed one of these common winter viruses, you might be wondering what your best course of action is. The best thing for you is to keep your routine oral health care maintenance going, and this can be difficult when you do not feel well. Your body is currently fighting for its life, so your oral health is compromised.
Your gums may be at a significantly higher risk of infection and recession as well. This is known as periodontal disease and it can be incredibly harmful to your smile. Take the effort in keeping yourself on track, even when sick!
Stay Safe And Warm!
When the weather turns, our communicable diseases come back each year. If you need help in finding ways to keep your smile safe, or if you would like to schedule an appointment, contact your Richfield, MN, dentist, Dr. Keller, by calling (612) 861-7188.