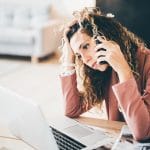 When you think about the factors that might affect your oral health, you would be right to think about your oral hygiene routine. It is also correct to consider your diet a factor when it comes to maintaining a healthy smile. What you might not realize is that your stress levels have the potential to impact your oral health! Stress can increase your risk for developing a teeth grinding habit, and it may make you susceptible to dry mouth. During stressful periods, you can also face risks from unhealthy changes in your diet and dental care routine. Our Richfield, MN dentist's office is proud to provide smile support during regular dental exams and cleanings, but we also encourage our patients to make sure their teeth are fully cared for between appointments!
How Does Stress Impact A Person's Oral Health?
Stress can affect a person's body in a number of ways. In general, stress can affect your mood, your ability to rest, and your physical health. When it comes to your oral health, stress can be a problem because you may develop a teeth grinding problem, or struggle with dry mouth. During stressful periods, you can also have a harder time sticking to a smart, low-sugar diet, and may feel that you lack the time and energy for proper oral hygiene. While these issues can have different effects, and to varying degrees, it is important to check in with yourself and manage your stress so that your oral health does not suffer.
Be Aware Of Bruxism's Threat To Your Smile
Bruxism is the term used to refer to a habit of persistent teeth grinding. When this habit affects you, it can lead to problems with your smile caused by enamel wear and tear. Your teeth may appear worn or flattened after a period of teeth grinding, which can hurt your confidence in your smile. If the issue continues to affect you, the result can be a chipped or cracked tooth that requires a dental crown!
Additional Tips To Help You Maintain The Condition Of Your Teeth
If you want to avoid problems that require restorative dental work, make preventive dentistry a priority every day. Making an effort to manage stress can help you stay focused on behaviors that are better for your smile. Allowing yourself an "occasional" break from brushing and flossing can lead to an accumulation of tartar, which can make you more vulnerable to cavities and gum disease. Even during a stressful or busy period, these habits should be considered an important part of your daily routine.
Cedar West Family Dentistry Provides Oral Health Support To Richfield, MN Families
Cedar West Family Dentistry in Richfield, MN is proud to provide a range of dental services to people in and around our area. If you would like to learn more about us, call Cedar West Family Dentistry at (612) 861-7188.