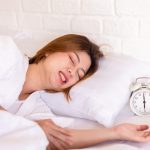 If you often wake up with sore or sensitive teeth, experience soreness or stiffness in your face and jaw, and notice changes in your smile because of wear and tear, you should know that bruxism could be the cause. Over time, if you let this problem go unaddressed, it can lead to worsening discomfort and serious dental damage! Your Richfield, MN dentist's office is ready to help you protect yourself against bruxism. With a custom oral appliance, you can start resting peacefully again. We can also talk to you about treating problems with your oral health that stem from nightly teeth grinding troubles.
Do You Often Wake Up With These Issues?
There are several concerning problems that you can experience if you grind your teeth at night. People who spend their nights grinding your teeth can frequently wake up feeling facial stiffness and soreness. Dental discomfort can also be a concern. Waking up with this discomfort can indicate that you have ongoing difficulties with teeth grinding at night. You can discuss your issues at your next dental exam, or set up time to talk to your dentist to make sure the problem is addressed before there are complications.
The Consequences Of Ignoring Bruxism
Bruxism is often linked to difficulties with TMJ disorder. That can leave you experiencing persistent difficulties with jaw pain, stiffness in your joints, and trouble with headaches. Bruxism also causes damage to your enamel that can make you self-conscious about your smile, and may even impact your oral health. With a custom oral guard, we can keep your smile safe while you rest in the evening. Its presence can keep your teeth apart, and it can also help prevent mounting stress on your joints and muscles.
Restoring Teeth That Are Already Damaged
Unfortunately, some patients do not see the dentist about a problem with teeth grinding until they have already done damage to their teeth. If you need work done to address wear and tear, or if you require treatment to deal with more significant damage, we can help! After a review, we can determine if you have teeth that require restorative dental work, or if you can benefit from cosmetic dental treatment.
Talk To Your Richfield, MN Dentist About Your Issues With Nightly Teeth Grinding
Nightly teeth grinding can turn into a serious oral health issue, one that can cause permanent damage to your smile! Bruxism can become a real problem in time. Fortunately, you can bring your concerns to Cedar West Family Dentistry to discuss treatment options. In addition to protecting your teeth from further damage, we can recommend a procedure to restore any teeth that are damaged. To find out more, contact your Richfield, MN, dentist, Dr. Keller, by calling (612) 861-7188.