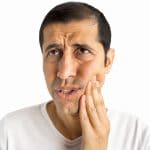 It is sometimes easy to forget that your oral health is a part of your overall health, which means that you can find yourself having a health emergency that a dentist is equipped to handle. Some of these emergencies are easier to identify than others, so, in today's blog, your Richfield, MN, dentist will share some dental emergency examples as well as how we care for you in our office during those situations.
Examples of Dental Emergencies
A dental emergency can be most understandably defined as an issue that is negatively affecting your oral health and will get even worse if you don't take care of it right away. So, some examples include:
A broken tooth
A permanent tooth coming out either on its own or as the result of an impact
A permanent tooth becoming loose
A bad, persistent toothache
A cracked or chipped tooth, especially if it becomes discolored or is painful
If any of these issues was caused by an accidental impact, it is important that you talk to your dentist right away to restore your tooth as quickly as possible to lessen your chances of cavities and infections. If they were not caused by an impact, it is highly possible that they have been caused by cavities or infections, which will only get worse if left alone. So, if any of these issues affects you or someone in your family, you should call Cedar West Family Dentistry right away.
How We Care for You
When you call our office, we will make an appointment for you so that you can come in as soon as possible. We are also equipped to help you through managing your symptoms while you wait, which we can do over the phone, giving you pointers for managing pain and storing teeth that have fallen out safely. Once you get to our office for your appointment, you will be given an oral examination so that your dentist, Dr. Keller, can make sure to address any and all damage, as well as any signs of infections or tooth decay. He will then explain the best restorative solutions for your emergency, which may include dental fillings or dental crowns. If an infection or cavity has become particularly bad, tooth extraction may become your only viable option, which is why we suggest coming in right away to avoid that outcome. However, no matter the situation, we are prepared to help you.
Don't Wait- Call Us!
Our office is always sanitized frequently with high-quality cleaners and methods due to the sensitive nature of our work. This, coupled with the fact that we only see a few patients each day, makes our office one of the most sanitary and safe places for you to be. So, if you are having a dental emergency, don't hesitate to schedule a visit with Dr. Keller by calling Cedar West Family Dentistry in Richfield, MN, today at (612) 861-7188.