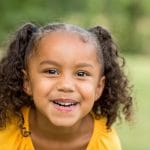 Children's smiles are just as vulnerable to issues like tooth decay and dental infection as a grown-ups are, which is why they need routine care both at home and in the dentist's office. In today's blog, your Richfield, MN, dentist will explain our approach to children's dentistry, and help we keep little smiles strong and healthy.
Examining and Cleaning Little Smiles
Once your child's first baby tooth arrives, he or she should attend their first office visit. Afterward, routine checkups and cleanings should be administered every six months. A checkup lets us take a close look at the smile to diagnose any issues we discover, such as a cavity or developing misalignment. We then create a treatment plan, often before your child experiences discomfort. During the cleaning portion, we remove all plaque and tartar from the surfaces of the teeth, which enables our team to lower the risk of teeth and gum issues. These visits also offer our team a chance to teach your children about their smiles and how to keep them healthy. They may also be less likely to develop dental anxiety!
Applying Fluoride Treatments
If we find out your child has a high likelihood of developing tooth decay, then we may suggest a fluoride treatment. We dry the teeth and apply a special varnish, which cures quickly. The fluoride then strengthens the outer enamel to reduce the risk of tooth decay. The process only takes a few minutes and can be administered every checkup and cleaning visit to help safeguard little smiles throughout the year.
The Benefits of a Dental Sealant
We also have another preventive treatment to help protect children from cavities. For many kids, the rear teeth are hard to reach when brushing and flossing, so food particles remain trapped there. Over time, these trapped particles are consumed by bacteria and a cavity forms as plaque buildup coats the teeth and weakens enamel. However, with dental sealants we place layer of acrylic over these teeth to prevent food particles from becoming trapped, lowering the risk of tooth decay. The sealants take minutes to apply wear away naturally with time, and can stay in place for 5 to 10 years, keeping smiles safe. If you have any questions about our preventive treatments for kids, or if you would like to schedule a checkup and cleaning appointment for your child, then contact our team today to learn more.
Your Richfield, MN Dentist's Office Offers Children's Dentistry
At our Richfield, MN dentist's office, we want to help people of all ages maintain optimal oral health. To find out more about our approach to children's dental care, then please call Cedar West Family Dentistry at (612) 861-7188.