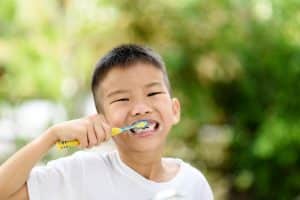 Kids can have a harder time with good oral care, simply because they are less aware of what they need to do to protect their smiles. Children may be less clear on the threat cavities and gum disease can pose. They might also be less capable of brushing and flossing effectively, and more prone to consuming foods and drinks with more sugar. Dental checkups for kids will allow your dentist to instruct them on the importance of daily care, and educate them on how to brush and floss properly. These visits are also important because your child's jaw structure is still forming. If there are issues with their development, your dentist can recognize them and talk to you about how to address the matter.
Professional Care Offers Real Value For Young Patients
Starting dental visits at a young age can make it easier for your child to enjoy a lifetime of good oral care. Your dentist can set aside time whenever your kid comes in to discuss proper hygiene needs, and help them brush and floss in a way that fully cares for their smile.
Setting A Good Example For Kids By Practicing Good Preventive Care
If you want to make it clear to your child that dental care matters, make sure to set a good example by keeping on top of your own preventive dental needs. You can schedule your regular dental checkups to coincide with your kid's visits. That way, you can limit your number of trips, and show that you recognize the value of receiving professional smile care.
Set A Dental Appointment For Your Kid At Cedar West Family Dentistry
At Cedar West Family Dentistry, our office is committed to helping kids enjoy their best – and their healthiest – smiles. Sometimes, this means identifying developmental problems and recommending solutions. In all cases, these visits offer professional oversight, an expert cleaning, and the chance to guide your child through the importance of ongoing oral care. To learn more about our practice, or to schedule an appointment for yourself or your child, call our family dental office in Richfield, MN, today at (612) 861-7188.