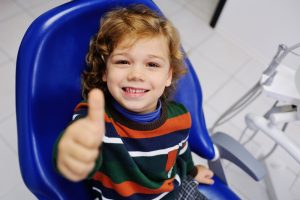 If your child feels uneasy about seeing the dentist, bringing them in for a routine dental appointment can become needlessly difficult. Of course, if they have to go in for restorative dental care, that degree of difficulty can spike. If you want to help your child feel at ease with your dentist, make sure you start their appointments early. Your child should start enjoying regular checkups as early as three years of age. This can make future visits more comfortable for them, as well as setting them up for better life-long oral care.
Early Dental Visits Support Healthy Smiles
Early dental visits protect young children from cavities, which can be painful, and can lead to more health concerns. They are also valuable because they serve as an opportunity to teach children how to exercise proper dental care at home. Part of early visits can consist of your dentist walking your kid through proper brushing and flossing techniques, and educating them on why they matter.
Why Fluoride Treatments And Dental Sealants Are Offered To Kids
Because kids are still learning the importance of good dental care, and they tend to be more interested in sugary foods and drinks, they can face a higher cavity risk. To combat this, your dentist can provide dental sealants and fluoride treatments. Fluoride encourages a faster regrowth of enamel, to better prevent damage from turning into a cavity. Dental sealants are typically applied once your child's adult teeth have arrived. By coating teeth, sealants barricade them against debris and oral bacteria, so they do not suffer decay.
Bring Your Child In For Care With Dr. Keller
Dental care is important even at an early age. If you want to make sure your child's smile is well cared for, bring them in for treatment with Dr. Keller at Cedar West Family Dentistry. At every visit, your child will receive expert care and attention, as well as instruction on how they stay free of problems like tooth decay. To learn more about our practice, or to schedule an appointment with Dr. Keller, call our family dental office in Richfield, MN, today at (612) 861-7188.