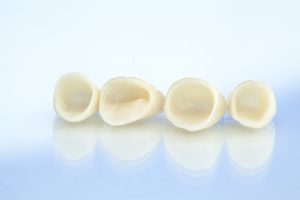 When you have cracked or chipped a tooth, or if a serious case of tooth decay or infection arises, you need care to avoid worsening pain or the loss of the tooth altogether. Fortunately, we can provide repair that looks natural and blends with your smile. In today's blog, your Richfield, MN, dentist talks about how we create lifelike dental crowns.
Three Lifelike Materials
What do we use to create crowns? We have three options to ensure a lifelike appearance. With ceramic, we have a lifelike material that can be shaded to blend with your smile, and is translucent like natural enamel. We reserve these for the front-facing teeth. For the side and rear teeth, our team will opt for stronger materials, such as porcelain-fused-to-metal or zirconia, which absorb greater levels of bite force and pressure, but can still be color-matched to blend with your smile.
When to Receive One
We prescribe them if you have a cracked or chipped tooth, or a severe case of tooth decay or infection that cannot be addressed with a filling alone. Placement could be used to lengthen teeth worn down by teeth grinding, or to reshape the overall appearance. If you have missing teeth, then our team could use them to secure a dental bridge, or to restore a single tooth dental implant. As you can see, they have the ability to address a wide array of both restorative and cosmetic issues! To keep them strong, be sure you continue to brush and floss daily, and to also make time to see us for a checkup and cleaning visit every six months.
Placement Process
To create and place one, our team will administer a numbing agent and then remove structure from the tooth. We take detailed impressions and images of the teeth, which we use to design and craft the finished product. Each one will be custom-made to ensure a proper fit and appearance. When they're ready, you will return to the office so we can place them with a powerful bonding agent. With proper care and attention, they have the potential to last for decades to come and offer a natural-looking appearance. If you have any questions about how we restore the health, beauty, and function of your smile with our custom-made dental restoration, then contact our team today. We want to help you obtain your best possible smile!
Do You Need a Dental Crown?
Our team wants to offer a natural-looking and powerful restoration option to help improve your smile. To find out more about our restorative treatment options, then please call Cedar West Family Dentistry at (612) 861-7188. You can also find us at 1537 E 66th Street, Suite #101 Richfield, MN 55423.