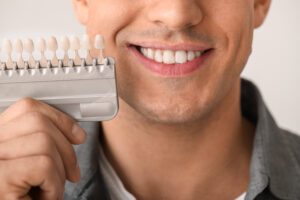 We offer cosmetic dental care to our patients to help correct common imperfections with the shape and color of the teeth. Using dental bonding and contouring, we can help address these problems in only one visit! In today's blog, your Richfield, MN, dentist talks about the bonding and contouring process.
Examining Your Smile
First, we want to understand the issues about your smile that you would like to change. Next, we will sit down and carefully examine your smile with advanced digital x-rays and intraoral cameras. These images will allow our team to understand the factors behind your cosmetic issues, and assess the extent as well. From there, we will create a treatment plan tailored to your smile that could improve overall esthetics. Often, we use dental bonding and contouring to address these issues, allowing you to smile with confidence after only one visit in many cases!
Dental Bonding
The dental bonding procedure involves using the same composite resin that composes our tooth-colored fillings. Only instead of treating cavities, we're correcting esthetic issues. We begin by administering a local anesthetic and gently cleaning the teeth and etching the surfaces. We then apply the metal-free composite resin in several layers. The dentist will sculpt and mold the tooth as the composite resin cures under a special light. We then polish the tooth for a brighter appearance.
In one visit, we can mask permanent teeth stains that could resist common teeth whitening treatments, and even close embarrassing gaps between your teeth. Treatment includes lengthening worn down teeth too, and also repairs minor chips and cracks too. If you have misshapen teeth, we can offer correction for this as well!
Contouring Your Smile
We also have the contouring procedure, which can be done in the same visit, or a separate one. We gently buff and sand the outer structure to correct common cosmetic issues. For example, we could fix minor chips, reshape overly large teeth, and even dull sharp, jagged, or pointed portions too. We also smooth out rough, pitted, or grooved portions of a tooth. For a smile makeover, we could also combine these treatments with teeth whitening, porcelain veneers, and other cosmetic treatments, Even if you have multiple issues with the beauty of your smile, we're ready to help. If you have any questions about these treatment options, or any of the other potions we offer through cosmetic dentistry, then contact our team today to learn more. 
Ready for Cosmetic Dentistry?
We would love to address the cosmetic imperfections with your smile in only one visit. If you have any questions or would like to schedule an appointment, contact your Richfield, MN, dentist, Dr. Keller, by calling (612) 861-7188.