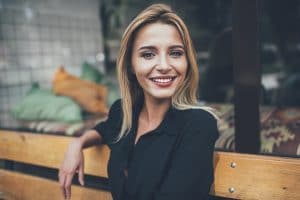 While you may be up-to-task with your dental hygiene by practicing regular brushing at home, cracks, chips, and difficult stains can occur at any given time. Cosmetic dentistry offers the ability to enhance your smile and reduce such blemishes, but how can this be addressed without actually altering your grin's appearance? Your Richfield, MN dentist at Cedar West Family Dentistry can help you correct blemishes such as these while also restoring your tooth's natural structure through the cosmetic process of bonding and contouring.
What Does Bonding and Contouring Address?
Chips, cracks, gaps, and other unsightly blemishes can tarnish your smile's appearance while also causing a decreased level of confidence, as the first thing most people notice is one's smile. Bonding can address these circumstances in a manner that not only corrects the blemish but does so in a way that does not alter the natural appearance of your teeth. The process is minimally invasive, and consists of filling the crack or chipped area with a shade-matched dental composite resin. This resin is formed on or around an oral structure to fill and cover any exposed or blemished area of a tooth. After this, the composite is contoured or shaped to mimic the natural texture and surfaces of your teeth. Once shaped, the resin is hardened so as to create a strong bond on your tooth and prevent oral bacteria from entering the area.
Shaping Your Smile
One of the major benefits of a full and complete smile includes the level of confidence that accompanies it. Many individuals have exhibited a direct correlation with how their grin looks and how confident they are in their appearance, meaning a happy, healthy smile is many people's goal. When a pesky stain presents itself or a chip causes unevenness, people begin to not feel as strong about their grin. Fortunately, cosmetic dentistry can help to re-shape and reestablish your perfect beam. Bonding and contouring allow your dentist the ability to fix any unsightly blemishes in a way that results in a lifelike, natural look. Contact our office to learn more.
Protection from Infection
In addition to the aesthetic benefits of cosmetic dentistry, bonding can actually aid in preventing infection. For example, a tooth that has been cracked down the middle is a likely candidate for excess harmful bacteria buildup. Once bacteria enter the structure, there is not much stopping them from infecting and decaying your healthy tooth. When this matter is addressed with a composite resin, however, the area is cleaned before placing the substance, then the substance is hardened to create an air-tight seal, preventing more bacteria from reinfection or further deterioration.
Learn More Today
Contact Cedar West Family Dentistry in Richfield, MN by calling 612-861-7188 to learn about the ways boding and contouring can preserve and even enhance your smile.