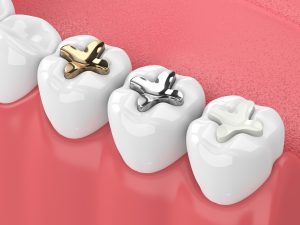 When you have a cavity, placing a filling could bring relief and protect the compromised tooth. Instead of relying solely on metal, our team provides an option free of metal and safe for all ages. In today's blog, your Richfield, MN, dentist will talk about our biocompatible approach to dental fillings with color-matched composite resin.
When You Need a Filling
Cavities form in our smiles when the outer enamel is compromised or damaged. Poor oral hygiene habits, including improper brushing and flossing and a diet high in sugar, could coat the enamel in plaque, weakening it with time until the inner tissues are exposed to bacteria causing a cavity. A chipped or cracked tooth could also cause trouble, as this instantly exposes the inner layers of tooth structure to harmful oral bacteria. If you attend a six-month checkup, we will likely catch the earliest stages of decay, treating it before you experience discomfort. Otherwise, your first warning sign is likely the tooth sensitivity and toothaches that occur when a cavity is in a later stage.
The Biocompatible Composite Resin
When you have pain in your tooth, let us know right away! If an exam discovers you do in fact have a cavity, then we will move forward with filling placement. First, our team administers a local anesthesia to keep you feeling comfortable. Next, we prepare the composite resin material used in the filling. A metal-fee material, this is safe for all ages and we can shade it to blend with the rest of your smile. The same material is also used in our dental bonding procedures, addressing common esthetic issues like teeth stains, misshapen teeth, and minor dental damage.
Placement and Prevention
The material is then applied to the tooth in several layers. As the dentist sculpts and molds the tooth, the composite resin is cured under a light. The last step is to polish the tooth thoroughly. Once we do, you're ready to go with a repaired and comfortable tooth, all in only one visit! To help prevent future cavities, make time to brush and floss daily, eat a diet low in sugar, and also visit us for checkup and cleaning visits every six months. These actions help prevent cavities, infections, and even gum health issues too. If you have any questions about our fillings, or if you would like to schedule your next checkup and cleaning visit, then contact our team today to learn more.
Talk To Your Richfield, MN Dentist About Restorative Dentistry
In addition to stopping decay and protecting smiles, our restorations also look natural too. To find out more about our custom and durable dental restorations, contact your Richfield, MN, dentist, Dr. Keller, by calling (612) 861-7188.