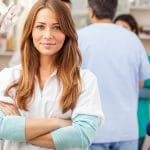 It's March, which also means that it's National Women's History Month! In honor of this month, we at Cedar West Family Dentistry thought it would be a great time to share the stories of three trailblazing female dentists who made history for successfully going where women had not been allowed before. So, in today's blog, your Richfield, MN, dentist will share some facts about three women who changed the course of dentistry.
1. Emeline Roberts Jones
Emeline Roberts Jones was born in 1836 in New Haven, Connecticut. When she turned 18 years old, she married Dr. Daniel Jones, who was a dentist. She became inspired by dentistry and expressed interest in the profession to her husband, but he refused to teach her because he believed the common notion of the time that the hands of women were too clumsy and frail for dental work. So, Emeline studied and began practicing in secret in 1855, becoming the first practicing female dentist when she was only 19 years old. By that time, she had extracted and filled hundreds of teeth without her husband's knowledge. When Dr. Jones discovered what she had been doing, he decided to let her practice dentistry with him, even making her a partner when she was 23. She gained a great reputation as a skilled dentist and continued to practice dentistry by herself, while raising two children, even after Dr. Jones died.
2. Lucy Hobbs Taylor
Though Emeline Roberts Jones was the first woman to practice dentistry, it would be another 11 years before the first woman would earn a DDS. After being born in 1833 in New York, Lucy Hobbs Taylor was orphaned when she was only 12 years old. While she worked through most of her childhood, she became interested in medicine and dentistry, and applied for entry into the Eclectic Medical College. When she was denied because she was a woman, she studied with one of the faculty members there before trying again to enter college, this time at the Ohio College of Dentistry. She was denied again because of her gender, and began studying with a professor from the college, Dr. Jonathan Taft. She went on to become a dentist with her own practice in Cincinnati in 1861. She was finally able to enter the Ohio College of Dental Surgery, where she earned her DDS in 1866. She then inspired her husband to become a dentist, as well, and they practiced dentistry together for another 20 years.
3. Ida Gray
Born in 1867 and also an orphan like Lucy Hobbs Taylor, Ida Gray had even more adversity to overcome as a black girl forced to attend segregated schools. However, she also met Dr. Jonathan Taft in Chicago while working in his office and attending high school, and she studied dentistry with him before entering the University of Michigan School of Dentistry in 1887. Three years later, she graduated and opened her first practice in Cincinnati, where she became famous not only for being the first African-American female dentist, but for treating both white and black patients. She would later move her practice to Chicago and inspire one of her many patients, Olive M. Henderson, to become the second African-American female dentist in Chicago.
Be Inspired by Your Smile
These inspirational women changed the course of dental history for the better, and, at Cedar West Family Dentistry, we want to change the health of your smile for the better. If there is anything you wish to change about your smile, or if it is time for your six month cleaning and checkup, schedule a visit with Dr. Keller by calling Cedar West Family Dentistry in Richfield, MN, today at (612) 861-7188.