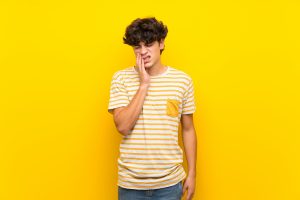 When you have issues with jaw pain on a daily basis, or even throughout the day, let your dentist know! The reason for this discomfort could be due to a problem with uneven jaw movement. If your joint movements are not aligned properly, mounting stress can affect them, which can lead to persistent pain in your face, neck, and head. Our Richfield, MN dentist's office is prepared to help you resolve this trouble. With a custom guard, we can help you change your bite movements for the better, which can relieve the tension that has caused you so much discomfort. We can also help you deal with related teeth grinding issues that can hurt your smile as well as your quality of life.
Are Your Troubles With Jaw Stiffness And Pains Interfering With Your Life?
The inability to perform basic jaw movements without some form of pain or stiffness should concern you. That discomfort can point to issues with poor alignment or movement, something that can cause increasing distress as time passes. In addition to causing pain centered on your face and jaw, this tension can lead to an increase in headaches, and it can be responsible for your neck and shoulder pain. Fortunately, these are issues that you can resolve through the use of a custom appliance that helps you correct imbalances.
Discussing Treatment For Your TMJ Problems
Correcting your issues with TMJ disorder can help you resolve difficulties with pain and stiffness that interfere with your quality of life. We can help you address your imbalance with a corrective guard, one that is designed to fit your jaw comfortably and securely. When in position, it encourages better alignment, which can help you improve movement and reduce tension. We can also use a guard to keep your teeth safe against bruxism.
Other Benefits To Regular Preventive Appointments
How can you avoid difficulties with jaw pain and stiffness that develop and worsen over time? Through your regular preventive dental appointments, you can receive helpful updates about the condition of your teeth and oral structures, which can lead to care before pain and stiffness become bigger concerns. Through preventive services, we also help control your risks for the onset of difficulties.
Talk To Your Richfield, MN Dentist About TMJ Treatment
Is TMJ treatment something that you ought to look into? When you suffer regular feelings of pain in your face, head, and neck, and when you have a tendency to grind and clench your teeth, the right care is important. Cedar West Family Dentistry can tend to your issues with your jaw so that you can maintain better movement, and we can protect you against teeth grinding. To find out more, contact your Richfield, MN, dentist, Dr. Keller, by calling (612) 861-7188.